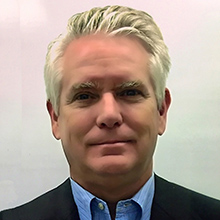 Terry Long
Senior Director, Property Development, Design & Architecture
Brinker International
– Previous Speaker Page – 
Terry Long was a featured speaker at RestaurantSpaces '17
Terry Long is the Sr. Director of Property Development, Design & Architecture for Brinker International. In this role he oversees the due diligence, design and architectural support for Brinker International including Chili's and Maggiano's. He has been responsible of the design or remodeling of over 1300 restaurants. Additionally, he has lead many teams in the development of new concepts and prototypes.
Having joined the company in 2004, he served as Director of Architecture for several brands including Romano's Macaroni Grill and On the Border before assuming the role of Director of Architecture for Brinker International.
Prior to joining Brinker International, Terry worked for Morrison Restaurants Incorporated working on eight of their specialty concepts including Ruby Tuesday and with franchisee partners. He also worked for Chick-Fil-A where he worked on all concepts including a new design for Truitt's Grill. Terry also touched the philanthropic side of Chick-Fil-A by his involvement with "WinShape Homes" and leading a Design Team in developing the multi-use retreat facility "Winshape Retreat", overseeing its construction of their 1920-30's Dairy Barns into a state of the art retreat facility. In addition, he worked for WD Partners as a Studio Director before joining Brinker International.
He holds a Bachelor of Science in Architecture from The University of Texas at Arlington and has been a registered architect since 1982. Terry also holds his license as a Registered Accessibility Specialist in Texas, N.C.A. R.B Certificate and is a member of the American Institute of Architects. Terry has served on several City Boards and Municipality Utility District board in the past. Terry resides in Highland Village, Texas with his wife of 34 years, Lisa, and has two sons.