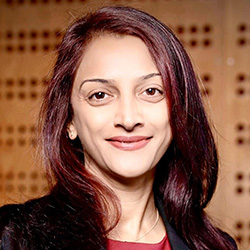 Tabassum Zalotrawala
Chief Development Officer
Chipotle
Tabassum Zalotrawala joined Chipotle as Chief Development Officer in December 2018. In this role, Ms. Zalotrawala oversees the restaurant development department which has been a driving force behind the expansion of innovative formats including the Chipotlane, which was named one of 'The Most Innovative Architecture Projects of 2020' by Fast Company.
Prior to joining Chipotle, Ms. Zalotrawala spent over 7 years at Panda Restaurant Group as Chief Development Officer and Vice President of Development overseeing Real Estate, Design, Construction, Facilities and Strategic Sourcing. Prior to joining Panda Restaurant Group, Ms. Zalotrawala spent over 10 years with Arby's and Wendy's Arby's Group in various leadership positions in Development.  Ms. Zalotrawala started her career in luxury hospitality, designing high profile palaces & mosques in Muscat, Sultanate of Oman.
Ms. Zalotrawala has experience leading initiatives for a variety of fast-casual, full-service, and quick-service brands operating in major markets worldwide. Her background uniquely combines experience in interior design, architecture, real estate, construction, facilities, sourcing, and asset management, and this allows her to craft winning strategic plans, right geographic and market development plans to deliver the results to shareholders.
Ms. Zalotrawala holds a Bachelor's in Fine Arts degree in Interior design from the School of Planning & Architecture, American Intercontinental University and is a LEED Accredited Professional. In 2018, Ms. Zalotrawala completed the Harvard Business School Advanced Management Program, an intensive program that creates transformational leaders capable of tackling an organization's toughest challenges. Ms. Zalotrawala was honored with the Exceptional Women Awardee award in 2020 & serves on the International Council of Shopping Centers (ICSC) Board of Trustees. Ms. Zalotrawala also serves on the Board of Directors of Diamond Rock Hospitality Company, a publicly traded self-advised Real Estate Investment Trust (REIT) and is involved in non-profit work with GLEAM Network. GLEAM is a Global Leadership Enhancement and Mentorship Network serving underrepresented and underserved professionals in the food service industry.
As a globally versed executive, Ms. Zalotrawala is active with The National Association of Corporate Directors (NACD) and currently pursuing certification as a corporate director.