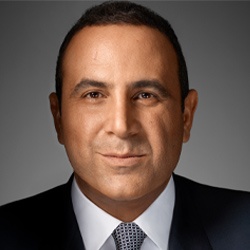 Sam Nazarian
Chairman & CEO
sbe & C3
Sam Nazarian is a visionary entrepreneur and business owner known for his remarkable contributions to the hospitality industry. In 2002, he founded sbe Entertainment Group, which quickly became a prominent player in the lifestyle hospitality world, encompassing globally renowned brands such as SLS Hotels, Hyde Lounge, and Mondrian Hotels. One of his notable achievements was the opening of Hyde Sunset in 2003, a cultural touchstone that redefined nightlife and has left a lasting impact on the Sunset Strip. Sam's commitment to high-end design and impeccable hospitality has further been showcased with the launch of Katsuya in 2006, a collaboration with renowned chef Katsuya Uechi, which has gained international recognition and captivated the imagination of a generation of tastemakers.
In 2008 Nazarian continued his entrepreneurial journey, expanding the SLS brand with the openings of SLS Beverly Hills, SLS South Beach, and SLS Baha Mar, all of which garnered critical acclaim and introduced an unprecedented fusion of design, culinary excellence, and luxury retail. SLS Beverly Hills was later Named the #1 Hotel in the World, #1 in the United States and #1 in Los Angeles by Conde Nast Traveler Readers Choice Awards. With an ambitious spirit, Sam has grown his empire by acquiring Morgans Hotel Group, adding iconic brands like Delano, Mondrian, and Hudson to the company's portfolio. Sam's passion for creating extraordinary experiences extends beyond hotels, as evidenced by the establishment of Mondrian Doha, a property that encapsulates the provocative spirit of the Mondrian brand.
In 2020, Nazarian sold the remaining 50% stake of sbe's hotel platform to Accor Hotels to focus on C3's (Creating Culinary Communities) global food-tech platform and full ownership of sbe's Disruptive Restaurant Group (DRG). DRG has become a leading force in the industry, offering visionary and award-winning dining concepts such as Katsuya, S Bar, Life Rooftop NYC, and the newly opened Sa'Moto and Hyde Sunset Kitchen + Cocktails. C3, a global food-tech platform, has introduced a revolutionary approach to food halls, ghost kitchens, and mobile delivery, utilizing world-class culinary talent and cutting-edge technology to create seamless experiences.
Sam's dedication to pushing boundaries has led to his most recent ventures, the opening of Citizens Manhattan West in 2021 and Citizens Phipps Plaza in 2023 – immersive culinary destinations backed by big name chefs like Dani Garcia, Masaharu Morimoto, and Italian master butcher Dario Cecchini, showcasing his entrepreneurial instinct and ability to define consumer trends.
Throughout his remarkable career, Sam Nazarian has consistently demonstrated his ability to anticipate and shape the future of hospitality and gastronomy. With his unwavering passion, entrepreneurial prowess, and a portfolio of iconic brands, Sam has cemented his position as a trailblazer in both the hospitality and culinary world for generations to come.
About sbe
Established in 2002 by Founder and CEO Sam Nazarian, sbe is a privately-held, leading lifestyle hospitality company that develops, manages and operates world-class restaurants, lounges and nightclubs. Through exclusive partnerships with cultural visionaries, sbe is devoted to creating extraordinary experiences throughout its proprietary brands with a commitment to authenticity, sophistication, mastery and innovation. Over the last decade, sbe has mastered the art of creating desirable destinations; the lifestyle platform included over 100 hotels and 150 restaurants and lounges. In 2020, Sam Nazarian shifted his focus to the culinary and nightlife world by launching Disruptive Restaurant Group (DRG.) DRG incubates and operates globally renowned culinary brands including critically-acclaimed restaurants, lounges and nightclubs. By partnering with an impressive roster of internationally renowned culinary talent, DRG concepts are committed to innovation and setting new industry standards. Restaurants and lounges include: Casa Dani, by three Michelin-starred Chef Dani Garcia; Citizens; Katsuya, by Chef Katsuya Uechi; Kumi; Doheny Room; HYDE; LiFE; and S Bar. Sam Nazarian has consistently demonstrated his ability to anticipate and shape the future of hospitality and gastronomy. With his unwavering passion, entrepreneurial prowess, and a portfolio of iconic brands, Sam has cemented his position as a trailblazer in both the hospitality and culinary world for generations to come. To learn more, visit sbe.com