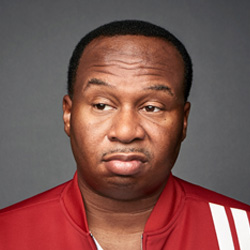 Roy Wood JR.
Comedian and Actor
ROY WOOD JR.'s comedy has entertained millions across stage, television and radio. In addition to stand-up comedy, producing and acting, Roy is currently a correspondent on Comedy Central's Emmy and NAACP Award winning The Daily Show with Trevor Noah.
Roy expanded his already large role on Comedy Central with a comprehensive first-look deal and is developing his comedy pilot Jefferson County: Probation.His most recent special "Roy Wood Jr.: Imperfect Messenger," landed on many Best Stand-up Comedy Specials of 2021 lists.
Wood's previous special, No One Loves You, premiered as part of Comedy Central's Stand-Up Month in January 2019; the special remains the network's highest rated original stand-up premiere since his February 2017 one-hour, Father Figure.
He has appeared on The Tonight Show Starring Jimmy Fallon, Late Night with Seth Meyers, The Late Show with Stephen Colbert, Conan, the Late Show with David Letterman and HBO's historic Def Comedy Jam. He has also performed for the troops on numerous USO tours in the Middle East and the Pacific Islands.
Roy is a graduate of the Florida A&M University with a B.S. in Broadcast Journalism. True to his roots, he is an outspoken advocate for reshaping the image of Alabama and the American South as a whole. In 2018, he penned a New York Times piece on the subject. He is actively working with the Birmingham City Council to bring more entertainment jobs to the state.
During the Covid pandemic, Roy has also remained committed to fundraising for comedy clubs by supporting initiatives like TipYourWaitstaff.com and Laugh Aid.
Keep up with Roy Wood Jr. on Twitter and Instagram @roywoodjr.