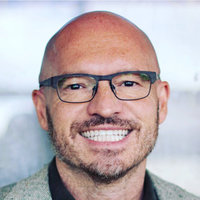 Robert Thompson
Founder & CEO
Punch Bowl Social
Previous Speaker Page
Robert Thompson was a featured speaker at RestaurantSpaces'19. Read the summary of his talk here. 
—
As a 20-something bartender and waiter in the early 1990's, Robert Thompson bounced from the US to the UK, gaining experience in restaurants and pubs where he sowed the seeds for his future passion. In 1997 at the age of 26, Robert opened his first restaurant, a dual concept called Buffalo Billiards & Havana Lounge in Nashville, launching what would become a lifelong career in hospitality.
Punch Bowl Social was imagined by Robert while he was still in Nashville and witnessed the appeal of an environment that combined social games with great food and drink. Following the successful openings of nine different restaurant concepts, Robert began to actualize his vision for Punch Bowl Social early 2010 but it took three years of real estate searches, design iterations and funding discussions before the first location opened in Denver's historic Baker neighborhood in November 2012. With lines around the block starting on day one, it was clear that Punch Bowl Social had struck a chord with young diners and drinkers seeking something authentic and out-of-the-ordinary. Since then, Robert and his team have opened 10 additional locations across the US and employ more than 1,400 team members. Each new Punch Bowl Social is designed specifically for the local market with an atmosphere that perfectly aligns with its brand personality. By the end of 2018, Punch Bowl Social will open another nine new locations, in cities including Brooklyn, San Diego, Washington, DC and Chicago.
In 2017, Ernst & Young recognized Robert's contribution to the hospitality industry by naming him a recipient of the prestigious Entrepreneur Of The Year® 2017 award in the Mountain Desert region. Punch Bowl Social has been honored by a number of awards and recognitions including the 2017 Inc. 5000 list of fasting-growing private companies in America, Nation's Restaurant News' 2017 Next 20 Brands to Watch and as one of their 2015 Breakout Brands.
Born in Mississippi, Robert still loves traveling to explore the roots of southern cuisine, adding to his collection of tweed vests, going for long, mind-clearing runs and spending every free moment with his wife, Mia and their sons.