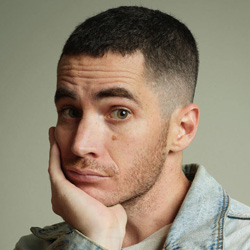 Ricky Velez
Actor / Comedian
Ricky Velez is a talented comedian and actor known for his sharp wit and engaging performances. With a unique blend of observational humor and storytelling, he has captured the hearts of audiences around the world.
In 2021, Ricky made his HBO stand-up comedy special debut "Here's Everything" which was executive produced by Judd Apatow and Pete Davidson. In addition to his stand-up comedy, Ricky Velez has made notable appearances on both television and in movies. One of his most prominent roles was as a correspondent on "The Nightly Show with Larry Wilmore," where he showcased his comedic prowess while discussing current events and social issues.
Ricky has also appeared in various TV shows, including "Single Drunk Female" on Freeform/Hulu, "Bupkis" on Peacock and as well as "Master of None" created by Aziz Ansari on Netflix. His natural comedic timing and delivery brought a fresh energy to the show.
On the big screen, Ricky Velez has made his mark as well. Most recently, he had a supporting role in Steve Buscemi's "The Listener" which premiered at the 2023 Tribeca Film Festival. In 2022, he appeared in "I Love My Dad" for Magnolia Pictures. In 2020, he starred and co-produced alongside Pete Davidson in the coming­ of-age comedy film "The King of Staten Island," directed by Judd Apatow for Universal Pictures. Ricky's performance was praised for its humor and authenticity.
With a growing body of work and an undeniable talent for comedy, Ricky Velez continues to captivate audiences through his television and movie appearances, as well as his stand-up performances, leaving a lasting impression wherever he goes.