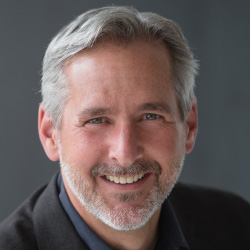 Richard Young
Director
Food Service Technology Center
Richard is the Director of Outreach at the Frontier Energy Food Service Technology Center (FSTC), an unbiased, commercial foodservice, research-and-training facility known to most industry insiders as "fishnick". 
Trained as an electrical engineer, Richard started his career in alternative energy, changing from energy-generation to energy-efficiency when he joined the FSTC research team over thirty years ago. He is a contributor to the US Green Building Council's Leadership in Energy and Environmental Design (LEED) rating system and the EPA's Energy Star program. Richard has lectured at UC Berkeley and UC Davis, taught a food service sustainability class at Diablo Valley College and is a member of the College's Regional Culinary Arts Advisory Board. Richard is a former member of the National Restaurant Association's Conserve Advisory Council and is a past Fellow of the Hobart Center for Foodservice Sustainability. 
Richard focuses most of his efforts on translating Frontier Energy's 34 years of food service research into practical information. He has created and delivered over 1000 presentations and classes during the last 30 years and authored numerous research reports and articles in magazines, newsletters, and on the web. He is also the creator and author of the online Foodservice Energy Efficiency Expert (Fe3) training and certification program (www.fethree.com).