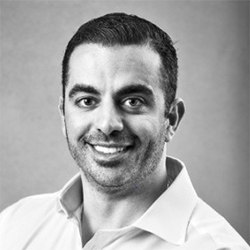 Nima Fazeli
EVP, Real Estate & Development
C3 by sbe
With more than 12 years of experience in the real estate industry, Nima Fazeli's expertise spans across investments, acquisitions, development and management in hospitality and commercial spaces. As the Executive Vice President of Real Estate and Development at C3 by SBE, he brings to life C3's vision as it's now the fastest growing global food tech platform centered on digital kitchens. With 800 digital kitchens across the U.S. to date, Fazeli's pulse on the industry will allow C3 to accomplish their goal of opening an additional 12,000 global kitchens by 2023.
Prior to C3 by SBE, Fazeli was Director of Real Estate Acquisitions & Development at PINN Investments, a real estate investment and development firm headquartered out of Newport Beach, CA, where he oversaw the development of a 174-room Element by Westin hotel in Anaheim, CA. He also oversaw the real estate portfolio for Tarsadia Investments, working for JLL's Hotels Team in their San Francisco office, and working as an Associate out of Barclays Global Investors' London Office. 
Fazeli graduated from American University in Washington, DC, and holds a Masters in International Relations from the London School of Economics, and an MBA in Real Estate Finance from Cornell University.