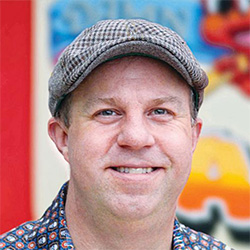 Mike Rypka
Founder & CEO
Torchy's Tacos
Michael Rypka, owner and founder of Torchy's Tacos, has been in and around the food business since he was 13 years old.  His talents and aspirations to become a chef started with his first job as a fry cook at Popeye's Fried Chicken.  After many arm burns and a few biscuits later, Michael left Popeye's and went on to be a line cook in his hometown at Le Peep restaurant in Alexandria, Virginia.  There he learned the art of cooking eggs and flipping pancakes into the wee hours of the morning.  Michael then moved on from omelets to Springfield Golf and Country Club, where his passion for food was really put into practice doing weddings, brunches and multiple course meals daily.
The country club led Michael to Johnson & Wales University in Miami, Florida where he began to take off the training wheels and really get to work.  Knife in hand, Michael set out to learn as much as he could about food, its culture and its origins.  Working at esteemed establishments such as Fisher Island, Mark's Place and an array of catering gigs, Michael had the privilege of cooking for President Bill Clinton, Taste of South Beach, Taste of the NFL and many other celebrities and exclusive gatherings.  After Johnson & Wales, Michael went on to receive a degree in Business in Hospitality Management from Florida International University.
After college, at the ripe old age of 22, Michael received the prestigious role as the Executive Chef at the World Bank in Washington, D.C. There he had the privilege of cooking every type of cuisine from just about every country in the world.  It led to a very polished palate.  After work at the World Bank, Michael crossed the country and went on to become the Head Chef at MTV Studios and Disney Animation in Los Angeles.  He quickly became a mentor to their mother company, Sodexho and to all the chefs in the Los Angeles area.  With nothing to lose, Michael tried his fate in the Lone Star State as the Executive Chef for Enron in Houston, Texas.  Though short-lived, Michael picked up his chin, packed his bags and became the Executive Chef for Dell Computers in Austin, Texas.  Once exhausted by the corporate lifestyle, Michael jumped ship, ready to start a line of healthy meals.  Instead, Michael found himself with an opportunity working for the owners of Chuy's to open a new concept, Lucy's Boatyard on Lake Austin.
Two and half years later, Michael decided that enough was enough.  On top of a passion for good food and a knack for damn good flavors, credit cards were maxed out and before he knew it—the first Torchy's Tacos food trailer was born on South 1st in Austin, Texas.  Fifteen years have passed and Michael still hasn't lost his passion for food.  Restless as ever, you can still find Michael in the kitchen or involved in the everyday operations of his beloved endeavor.  As Torchy's CEO, Michael's primary focuses are great tacos, providing opportunities to his employees and developing a culture in his restaurant that promotes fun, innovative and affordable gourmet.