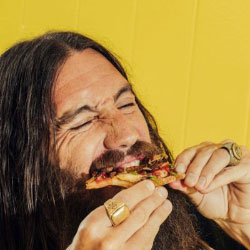 Michael Lastoria
Co-Founder & CEO
&pizza
Michael Lastoria is a serial entrepreneur known for building companies around four core principles: design-driven, culture-centric, brand-led, and most importantly, morally sound. In 2012, he co-founded &pizza, a counter culture pizza brand embodying these values.
Since its conception, &pizza has grown to 36 throughout the East Coast. The company's success, he asserts, is built on the shoulders of the company's employees, the &pizza Tribe. He sees them not just as employees, but as both the face of the brand and the core of its business. They live and breathe the brand and its culture, and some tribe members even tattoo their allegiance in ink; "&" tattoos are offered for free by the brand to its Tribe as a demonstration of its commitment to building a cultural movement, not just a product-pusher. Every shop is different, designed around, with, and inspired by the community it serves, often times incorporating local artists' work into their design.
In addition to &pizza, Lastoria co founded JWALK, a New York based full service creative agency. After rapid expansion, he and partner Doug Jacob sold the company in 2017 to beauty powerhouse Shiseido.
In 2002, he founded a leading marketing and media services company. As co-founder and CEO, Michael oversaw the company's growth and sale to Seaport Capital a New York-based private equity firm, in 2006.
But perhaps his proudest recognition is that of fair employer. Michael is a recognized and vocal advocate in the Fight for $15, and employs strict policies of paying a fair and livable wage.
He speaks regularly on the value of design thinking, innovation and entrepreneurship. Recent appearances include the Fast Company Innovation Festival, Inc. 5000, WeWork Creator Awards and more.
Michael has been identified as one of the country's top 25 fast casual executives, and named one of the Washington Business Journal's 40 Under 40. In 2017, he was awarded the Mort Harris Small Business Person of the Year by the Small Business Council of America.