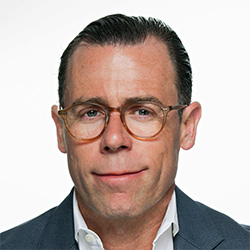 Justin Nedelman
Chief Real Estate Officer 
FAT Brands Inc.
Justin Nedelman is an entrepreneurial, proven pace setting hospitality and real estate executive with deep experience building results-oriented, mission-driven companies from the ground up. Mr. Nedelman is currently the Chief Real Estate Officer for FAT Brands (FAT), overseeing real estate for more than 2,300 restaurants and 17 brands. Prior to FAT, Mr. Nedelman was the Co-Founder and CEO of Eureka Restaurant Group, LLC (Eureka!), where he led the company from concept creation in 2009 through rapid growth until his departure in January 2021. Mr. Nedelman grew Eureka! to 26 company-owned restaurants in six states with run rate sales of more than $100MM. Under Mr. Nedelman's leadership, Eureka! operating metrics were in the top tier nationally with sales in excess of $1,000 per sq.ft, average annual return on equity over 44% and until level cash flow margins in excess of 18.8%. Mr. Nedelman's vision was for Eureka! to be the first restaurant group in the United States to curate a 100% American craft beer and small-batch whiskey bar paired with a mid-priced scratch made kitchen, ultimately earning the following awards by Nation's Restaurant News: "Breakout Brand", "Hot Concepts to Watch", "Next 20 Restaurant Brands" and in 2020 FSR Magazine recognized Eureka! as a "Top 50 Emerging Restaurant Chain in the United States".
Prior to Eureka!, Mr. Nedelman was a Partner at Investwest Companies, a boutique commercial real estate fully integrated investment, development and property management company where he built everything from a 2,000 sq.ft single tenant Starbucks to a 110,000 square foot power center. Mr. Nedelman was a Senior Director at Partners Reality Capital (PRC) prior to Investwest. PRC was a leading structured finance advisor to middle market real estate developers where he personally executed over $400MM of commercial real estate equity and joint venture debt transactions.
Mr. Nedelman holds a Bachelor's Degree in Business with a focus on Marketing and a sub-concentration in Real Estate from Miami University in Oxford, Ohio, has been a registered real estate Broker in the State of California since he was 22-years-old. Mr. Nedelman began his career working for Transwestern Property Company as an in-house leasing and acquisitions Associate focused on growing a 2 million sq.ft Class-A office portfolio.
Mr. Nedelman sits on the Board of the Collins College of Hospitality at Cal Poly Pomona and is an active member of Young Presidents Organization (YPO). He is currently an Operating Advisor to Corbel Capital (www.corbelcap.com), a $500MM leading special situations fund focused on retail, hospitality and real estate verticals and is active investor and Board Advisor to various food and beverage, hospitality, and restaurant tech ventures.