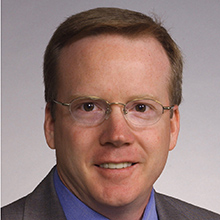 John McCleskey
Vice President of Restaurant Development
CHICK-FIL-A
– Previous Speaker Page – 
John McCleskey was a featured speaker at RestaurantSpaces '17
John McCleskey is Vice President, Restaurant Development for Chick-fil-A, Inc., and is responsible for Restaurant Development and Construction, Facilities and Equipment, and Capital Reinvestment for all Chick-fil-A locations. He began his career with the company in 1993 as a Construction Manager.
John graduated from Auburn University in 1988 with a BS in Building Science. He also attended Harvard Business School's Advanced Management Program and the Executive Development Consortium at Emory Business School.
John resides in Sandy Springs, GA with his wife, Joy, and three sons, John, Jake, and Jason.