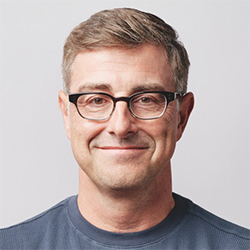 Jim McPhail
Chief Development Officer
sweetgreen
Married to Kristin and father of 3 (Maddie, Zoe, &Connor) Jim resides in the Bay Area suburb of Lafayette, CA.
Jim is a graduate of the University of California, Berkeley with a degree in Architecture, a degree in Economics, and a Minor in City Planning. He holds an MBA from the Northwestern Kellogg Graduate School of Management with a focus on real estate, management, marketing, and international business.
Early professional career experiences include architect and construction manager for clients like Wal-Mart, Albertson's, Capital Grill, McDonalds & Marriott until recruited by Home Depot in the early stages of the company's growth. Spent 8 years moving up between construction, design, and finally into real estate, ending career there managing all West Coast development operations (100 new store openings a year), until recruited to the SVP-Head of Development role at Kohl's Dept Stores. Since that role, transitioned to multiple other Head of Development/Chief Development Officer roles to scale development programs that aligned with his mission and values, such as 24 Hour Fitness, DaVita Healthcare, and Philz Coffee prior to joining sweetgreen in November of 2019.