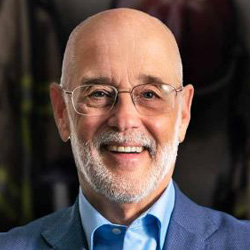 Don Fox
President & CEO
Firehouse Subs
Don Fox is Chief Executive Officer of Firehouse of America, LLC, in which he leads the strategic growth of Firehouse Subs, one of America's leading fast casual restaurant brands. He also serves on various boards, and is a respected speaker, commentator, and published author.
Don's restaurant career started 46 years ago as an entry-level employee for an independent Italian restaurant in New Jersey. In 1980, he joined Burger King Corporation, which led to a 23-year career with the national chain. Don served in a variety of positions, from restaurant management and field operations, to R&D and new concept development.
He joined Firehouse Subs in 2003 as director of franchise compliance. He was promoted to chief operating officer in 2005 and was named chief executive officer in 2009. Under his leadership, the brand has grown from 65 restaurants to more than 1,190 restaurants in 46 states, Puerto Rico, and Canada.
Don is a mainstay at restaurant industry events and is often involved both behind the scenes and as an expert panelist and keynote speaker. He was named Operator of the Year by Nation's Restaurant News in 2011, joining a long list of restaurant luminaries. Don was ranked No. 1 on FastCasual.com's 2013 Top 100 Movers & Shakers list and received the prestigious Silver Plate award from the International Food Manufacturers Association (IFMA). He gives back to the restaurant community through active participation on various boards, including the National Restaurant Association (In 2013, he received its Advocacy Leadership Award).
A published author, his most notable works are "Patton's Vanguard – The United States Army Fourth Armored Division," (published in 2003) and "The Final Battles of Patton's Vanguard" (2020).