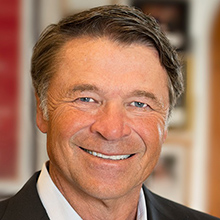 David Novak
Co-Founder, Former Chairman and CEO
Yum! Brands
– Previous Speaker Page – 
David C. Novak was a featured speaker at RestaurantSpaces '17
David C. Novak is Co-Founder, retired Chairman and CEO of Yum! Brands, Inc., (NYSE: YUM), one of the world's largest restaurant companies with over 43,500 restaurants in more than 135 countries and territories. He stepped down as Yum! Brands Executive Chairman on May 20, 2016. The Company's restaurant brands – KFC, Pizza Hut and Taco Bell – are the global leaders of the chicken, pizza and Mexican-style food categories. Yum! Brands employs 1.5 million company employees and franchise associates across its worldwide system. Outside the United States, the Yum! Brands system opened over six new restaurants per day on average, making it a leader in global retail development.
During his tenure as CEO, Yum! Brands doubled in size to 41,000 restaurants and established itself as a global powerhouse going from approximately 20 percent of its profits coming from outside the United States in 1997 to nearly 70 percent in 2014, while remaining an industry leader in return on invested capital. In so doing, Yum! Brands' compound annual shareholder return has been 16% and its market capitalization has grown to nearly $32 billion from just over $4 billion.
A renowned expert on leadership and recognition culture, Novak is the author of three highly respected and critically acclaimed books, The Education of an Accidental CEO, the New York Times bestseller Taking People With You as well as his latest parable, O GREAT ONE! A LITTLE STORY ABOUT THE AWESOME POWER OF RECOGNITION.
Prior to leading Yum! Brands, Novak was President at both KFC and Pizza Hut, and held senior management positions at Pepsi-Cola Company, including Chief Operating Officer, and Executive Vice President of Marketing and Sales.
Novak has been recognized as "2012 CEO of the Year" by Chief Executive magazine, one of the world's "30 Best CEOs" by Barron's, one of the "Top People in Business" by FORTUNE and one of the "100 Best-Performing CEOs in the World" by Harvard Business Review. In April 2015, he received the prestigious 2015 Horatio Alger Award for his commitment to philanthropy and higher education and became a lifetime member of the Horatio Alger Association of Distinguished Americans. He is the recipient of the 2012 UN World Food Program Leadership Award for Yum! Brands World Hunger Relief effort that raises awareness, volunteerism and funds to address this global problem. He also received the national 2008 Woodrow Wilson Award for Corporate Citizenship.
Novak and his wife Wendy established the Lift a Life Foundation in 1999 to help individuals in need reach their full potential through grants and programming in the areas of youth leadership development, hunger relief, early childhood education, juvenile diabetes and military family support. In 2012, Lift a Life Foundation, the former USA TODAY Charitable Foundation and Yum! Brands Foundation launched the "Lead2Feed Student Leadership Program and Challenge" to encourage middle and high school students to hone their leadership skills through community projects, such as hunger relief, using principles from TAKING PEOPLE WITH YOU. Since its inception in 2012, more than one million student members have put their leadership skills to work, volunteering a million hours of service, providing nearly three million meals and hosting thousands of charity events. Lead2Feed is the nation's fastest growing free service learning program where leadership and service learning intersect for measurable results.
Novak is now launching a new consumer brand, OGO (O Great One!), with the mission to inspire the amazing people in our lives through joyful, personal acts of recognition that deepen relationships. Novak's wife of 42 years, Wendy, is his OGO and the greatest inspiration in his life for her brave fight against and advocacy for Type 1 diabetes.