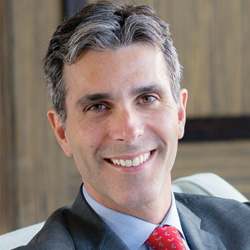 Daniel Del Olmo
CEO
Disruptive Restaurant Group and Umami Burger (sbe)
Previous Speaker Page
Daniel Del Olmo was a featured speaker at RestaurantSpaces '18
As CEO of Disruptive Restaurant Group and Umami Burger, a subsidiary of lifestyle hospitality company sbe, Daniel del Olmo is responsible for all of Disruptive Restaurant Group's brands, concepts and world-class international culinary experiences, as well as Umami Burger, the globally renowned premium burger concept, and sbe's influential nightlife division. The current portfolio comprises The Bazaar by José Andrés, modern Japanese brand Katsuya, award-winning Mediterranean brand Cleo, Michael Schwartz's Fi'lia, Hyde, Nightingale, Doheny Room, SKYBAR, and more. Altogether, Daniel oversees a current global portfolio of over 130 restaurants and lounges.
Prior to Disruptive Restaurant Group, Daniel was President of DineEquity International, one of the largest full-service restaurant companies in the world. Between 2013 to 2017, Daniel and his team added more than 125 restaurants Internationally, with year-over-year record-breaking growth; tripled the pipeline to over 200 obligations; launched IHOP Fresh & Go, a new fast casual concept; turned around Mexico – DineEquity's largest International market with nearly 100 restaurants – from worst to best performing market globally; and evolved its brands to be relevant and distinctive, resulting in the highest level of owner engagement in the company's history. Prior to DineEquity, Daniel held various executive roles – including Brand Senior Vice President of TRYP by Wyndham and Chief Performance Officer – with Wyndham Hotel Group, Amadeus Global Travel Distribution, and Melia Hotels International. During his tenure at Wyndham, he was a recipient of Hotel News Now' Hospitality Innovators' Award and the Chairman's 2012 'WYN Together' recognition for exceptional collaboration amongst Wyndham Worldwide's business units across Latin America & The Caribbean. While at Melia Hotels International, he was named "Rising Star" by Travel Agent magazine in 1999, 2000, and 2001.
Daniel is also a founding partner of The Passionality Group, an accelerator for nascent hospitality concepts; an active member of YPO; and a board member of Pantomonium Productions, a non-profit New York-based children's musical theatre group.
Daniel resides in Los Angeles and is a Belgian native. He speaks six languages, including Spanish, Dutch, French, Italian and Portuguese. He graduated from University of Hasselt in 1996, with an Applied Economic Sciences Bachelor degree and in 1997 with a Master of Business Administration degree.