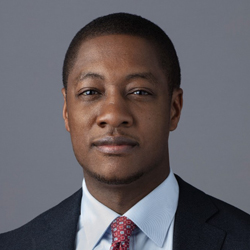 Damola Adamolekun
CEO
P.F. Chang's
Damola Adamolekun is the Chief Executive Officer of P.F. Chang's, where he leads the company in strategic initiatives ensuring the continued growth and success of one of the largest upscale-dining Asian restaurant brands around the world.
Mr. Adamolekun is also a Partner at Paulson & Co., the principal owner of P.F. Chang's, where he has played a vital role in the sourcing and subsequent management of several of the firm's largest investments. Mr. Adamolekun has been featured in numerous publications including Business Insider, Fox Business, Bloomberg News, Yahoo Finance, CNBC, Nation's Restaurant News, Time Out New York, New York Business Journal, and the Harvard Business Review.
Previously, Mr. Adamolekun has worked in the Investment Banking Division of Goldman Sachs and as a Private Equity Associate at TPG Capital. Mr. Adamolekun serves on the Board of Directors for P.F. Chang's, NuLeaf and Inday and previously International Tower Hill Mines (NYSE: THM).  
Mr. Adamolekun received a Bachelor of Arts in Economics from Brown University, where he was a member of the Ivy League champion Brown Football team and served as President of the Brown Investment Group and a Master of Business Administration from Harvard Business School, where he served as Portfolio Manager for the HBS Investment Club.  
Mr. Adamolekun is an avid sports fan and currently resides in Scottsdale, Arizona where he is involved as a board member and finance chair for the YPO Scottsdale Chapter.