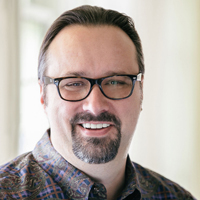 Christopher Collins
Principal
NVIRONMENT
– Previous Speaker Page – 
Christopher Collins was a featured speaker at RestaurantSpaces '17
With a career spanning 25+ years, Christopher is the Principal of Nvironment Architecture, a firm specializing in the Restaurant and Retail market segments.
WHAT DRIVES ME
I am passionate about retail / foodservice brands, design, and architecture. Being able to collaborate with like-minded individuals is my source of ENERGY. Expending that energy to improve work product, developing my capabilities as well those with whom I work, and nurturing successful client relationships is my source of PRIDE.
HISTORY
Christopher enjoys and prefers a personal and engaging management style. Before helping to found Nvironment Architecture, he was strategically involved in growing an international firm, managed associates, offices and Client relationships with revenues totaling over $10M annually. As a seasoned Project Manager, he was also personally involved in day to day program delivery for all phases of unique projects and site adaptations. Christopher has managed and interfaced with clients such as Compass Group, Walmart, The Home Depot, Limited Brands, Abercrombie and Fitch, Charming Shoppes, BP, ExxonMobil, Burger King, Red Lobster, Bahama Breeze, Bob Evans Restaurants, and Tumbleweed Restaurants to name a few.
PERSONAL
When not working, I love to work with my hands, whether it is projects around our hobby farm or vintage autos.  I used to be an avid runner and desperately trying to get back to it!
PAST AFFILIATIONS
AIA Board, Columbus, Ohio

Trustee, Columbus Architecture Foundation's Center for Architecture and Design

Advisory boards for Commercial Construction and Retail Construction magazine