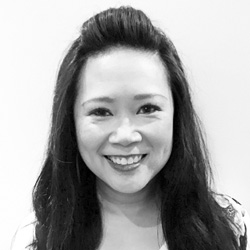 Caryl Scobbie
Chief Concept Officer
Just Salad
Caryl is currently the Chief Concept Officer at Just Salad and has over 20 years of experience in restaurant development. 
Since she started at Just Salad in 2019, she's helped establish development processes, design standards, and vendor relationships that leveraged Just Salad to grow from 5 store opens per year to 11 opens in 2022 and 15 opens projected in 2023. In 2021, Caryl shifted into her Concept role as a way to not only explore new platforms such as drive-thru but provide focus on the next-generation store design; ensuring the new prototype better aligns with Just Salad's sustainability values. 
At the start of 2023, Development now also reports to Caryl, which includes Real Estate, Construction, and Facilities, in addition to the Design/Concept that she was previously owning.
Caryl also spent 13 years at Panera Bread where she held multiple roles on the development and design teams, helping grow the brand from 800 stores to over 2,000. 
Caryl started her career as an architectural consultant, graduating with a Bachelor of Science degree in Architecture from the University of Texas at San Antonio. She currently resides in the St. Louis metro area.