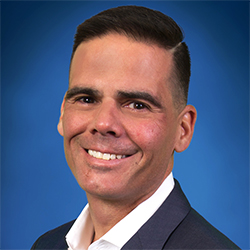 Andrew Bello
VP, Design and Architecture
Inspire Brands
Andrew Bello serves as Head of Design and Architecture for the Inspire family of restaurants. Inspire is a multi-brand restaurant company whose portfolio includes nearly 32,000 Arby's, Baskin Robbins, Buffalo Wild Wings, Dunkin', Jimmy John's, Rusty Taco, and SONIC Drive-In restaurants worldwide.
Bello sets the strategic direction for Inspire and is responsible for overseeing the company's restaurant concept design. He is also responsible for the growth and success of Inspire's company-owned restaurants as well as the brand's relationship with its  franchise community through creating and executing multiple restaurant formats to meet the enterprise goals.
Prior to joining Inspire, he served as the VP, Food and  Beverage Strategy at MGM Resorts International. At MGMRI he created and delivered high concept restaurants and bar experiences within integrated resorts throughout the world such as The Mayfair Supper Club, Sadelle's, and Spago.
Previously, Bello served as the managing director of U.S. design for Starbucks where he spent 9 years and oversaw multiple creative studios across the United States delivering high profile concepts at themes parks such as Downtown Disney in Anaheim and Orlando, and Universal Studios Orlando as well as street-facing expressions at Canal Street in New Orleans and South Beach Miami.
Bello is an alumna of San Diego State University with a bachelor degree in environment design.