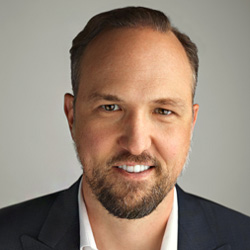 Alex Garden
Chairman and CEO
Zume
Alex Garden built Zume Inc. on the belief that our food system is slow and broken. Starting with delivery pizza's $44B per year industry, Alex founded Zume Pizza ​in 2015 as a testing ground for his food logistics concept that would redefine the preparation and delivery of food. While crafting and delivering artisan pizza for the past few years, Zume has built a fleet of patented Food Delivery Vehicles, constructed a cobotic commissary kitchen, designed predictive AI, and created a patented pizza pod. Now, Zume has expanded beyond Zume Pizza, offering its suite of technical solutions to companies to accelerate the food supply chain. 
Before founding Zume Inc., Alex served as the President of Zynga. Prior to Zynga, he served as a General Manager at Microsoft, where he led several teams, including Xbox LIVE, Xbox Music, Xbox Video, and the Entertainment Advertising business. 
In addition, after serving on the advisory board of Tokyo based Nexon (one of the world's leading online Video Game companies) for six years, he was co-CEO of the company from 2006 to 2008 and launched their North American development program. 
Earlier in his career, Alex founded the Vancouver based game development company, Relic Entertainment and was CEO for seven years prior to Relic's acquisition by THQ, Inc. in 2004. Alex also founded a parking management company, iVALET Systems, and an industrial robotics control company, Conceptual Interface Devices, which sold in 1990 to Intersoft Development Corporation. 
Alex currently serves as an advisor with numerous companies in all stages of development, and previously served as a Director of OneMove Technologies Inc. He is a prolific inventor with patents ranging from aerospace optics to three-space control devices to food preparation and delivery. 
Born and raised in Canada, Alex now lives in Tiburon, California with his wife, son, and dog. He enjoys building race cars, motorcycles, and robots in their home machine shop. 
Company Overview | Zume Inc. 
One third of the world's food goes to waste. Which means all the water, energy, and greenhouse gases used to produce that food is wasted with it. This is a problem with a $990 billion price tag for the food industry and an even bigger one for the planet. But we believe the solution is simple. 
What if we could eliminate waste by better balancing the supply and demand of food? 
Zume uses predictive analytics and real-time food consumption data to predict customer demand, match it with production, and enable food companies to make smarter decisions across the food supply chain. 
By connecting all the pieces of the food supply chain, we enable our partners to make better decisions for their business, their customers, and the planet.