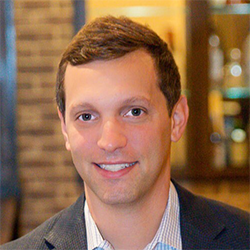 Scott Gladstone
SVP, Strategy and Innovation
Dine Brands Global
Scott Gladstone is the Senior Vice President of Strategy and Innovation for Dine Brands Global. In this role he oversees all aspects of global strategy development, planning, innovation and new concepts to drive growth for the company.
Previously, Scott served as Vice President of Strategy, Business Analytics & Consumer Insights for the Applebee's brand. In this role, he was responsible for a series of strategic growth initiatives. These included ensuring a guest-driven focus across key business and brand-building initiatives by leveraging guest insights and analytics, driving the growth of our off-premise channels (To Go, Catering and Delivery – third-party partners and Applebee's Delivery), and strengthening the franchisee portfolio through market evolution and restaurant development.
Prior to joining Applebee's in 2016, Scott was a Project Leader at The Boston Consulting Group, leading strategy and operations projects across a variety of industries and topics. His experience included efforts focused on brand transformation, marketing optimization, growth strategy and consumer insights.
Scott received his undergraduate degree from Emory University and his M.B.A. from UCLA Anderson School of Management.
Scott and his wife Sienna live in Los Angeles with their son, Weston.